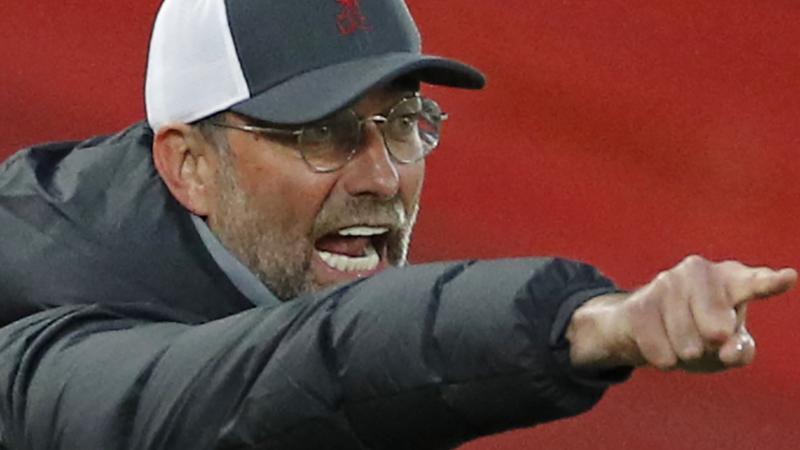 Liverpool manager Jurgen Klopp says upcoming opponents Manchester United's schedule of three Premier League games in five days is a "crime".
Klopp's side travel to Old Trafford on Thursday after their match on Sunday, 2 May was postponed due to fan protests.
Ole Gunnar Solskjaer's side won 3-1 away to Aston Villa on Sunday but a side showing 10 changes lost 2-1 at home to Leicester City on Tuesday.
"To play Sunday-Tuesday-Thursday is a crime," Klopp said on Wednesday.
Following Leicester's win over a much-changed United - which took the Foxes above Chelsea to third in the table - dethroned champions Liverpool are sixth, seven points adrift of the Champions League places.
They have one game in hand on West Ham directly above them, two on Chelsea following their defeat by Arsenal on Wednesday, and two on Leicester who are nine points ahead.
"It is not the fault of Ole Gunnar Solskjaer and the players," Klopp added, when asked about the Manchester United boss making 10 changes against Leicester.
"My question to myself was: 'Would I have done the same?' Yes. You have to. You have to."
About 200 fans broke into Old Trafford to protest against the Glazer family's ownership of the club, leading to the postponement of the Liverpool fixture, the first Premier League match to be postponed because of fan protests.
"The explanation from the Premier League was that no other team should suffer because of the things that happened in Manchester," Klopp said.
"Let me say it like this. That didn't work out pretty well. A little bit West Ham [suffered], a little bit Liverpool [suffered].
"But if we don't qualify for the Champions League it is not the fault of Ole Gunnar Solskjaer and his team selection or the Premier League, it is our fault."
Second-placed United's defeat by Leicester on Tuesday also confirmed Manchester City's third league title in four seasons.
Klopp described City manager Guardiola as the "best manager in the world", after the Spaniard claimed his ninth European league title as a manager.
"A great achievement, congratulations. I texted Pep last night and Ilkay [Gundogan]. It was a very difficult year for the whole world, for football teams as well, and what they achieved so far this year is exceptional."
'Mbappe? Haaland? Sancho? I don't see that happening a lot'
Klopp, who delivered Liverpool's first top-flight title for 30 years last season, said "not a lot" would be possible transfer-wise for the Reds in the summer.
The coronavirus pandemic has impacted clubs financially as games have been played behind closed doors - the Reds posted a pre-tax loss of £46m for the year ending 31 May, 2020, which covered the start of the pandemic.
Missing out on a lucrative Champions League place next season would further limit Liverpool's spending power.
"It depends on what happens if someone wants to leave, if we sell. We can never really plan early," Klopp said. "Not playing Champions League doesn't help obviously, but it's not our biggest problem. The market will be really strange.
"I hear about really big money moves. Is Kylian Mbappe going? [Erling Braut] Haaland? [Jadon] Sancho? I don't see that happening a lot this summer because the football world is still not in the same place it was before.
"The situation is better than I would have thought a year ago but the financial situation is a year where everyone suffers.
"It's not good if you don't go to the Champions League, but there is still a chance and while there is a chance we should not speak about it as no chance."
-- Courtesy of BBC Sport